Are you looking for a unique shopping experience that supports local farmers and producers? Look no further than the Pound Ridge Farmers Market! This weekly market is a must-visit destination for anyone interested in fresh, local produce, handmade crafts, and artisanal products. In this article, we'll explore everything you need to know about the Pound Ridge Farmers Market, from its history to its vendors, and how you can get involved.
History of the Pound Ridge Farmers Market
The Pound Ridge Farmers Market was established in 2012 with the goal of supporting local farmers and promoting sustainable agriculture. The market is run by a non-profit organization called the Pound Ridge Partnership, which works to enhance the quality of life in the community through various initiatives, including the farmers market. Since its inception, the market has grown in popularity and now attracts visitors from all over Westchester County.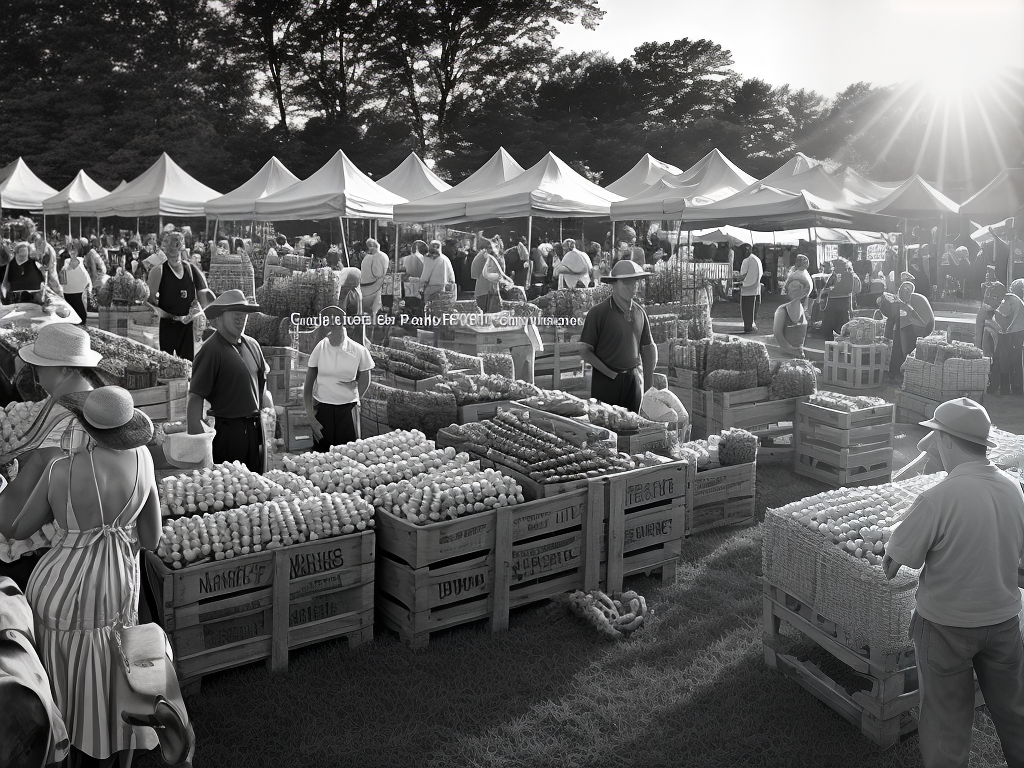 Location and Hours
The Pound Ridge Farmers Market takes place every Saturday from 9 am to 1 pm, rain or shine, from late May to early November. The market is located in the parking lot of Pound Ridge Elementary School, which provides ample space for vendors and visitors. The address is 7 Pound Ridge Road, Pound Ridge, NY 10576.
Vendors and Products
The Pound Ridge Farmers Market is home to a diverse range of vendors, offering everything from fresh fruits and vegetables to baked goods, honey, and handmade crafts. All vendors are carefully selected by the market's organizers to ensure that their products are locally sourced and sustainably produced. Some of the vendors you can expect to see at the market include:
Farm Vendors
Hilltop Hanover Farm: A local farm that offers a wide variety of vegetables, fruits, and herbs, as well as eggs and pasture-raised meat.
Gajeski Produce: A family-owned farm that specializes in fresh, high-quality produce, including tomatoes, peppers, and corn.
Woven Stars Farm: A small family farm that produces organic vegetables and herbs, as well as pasture-raised chicken and duck eggs.
Artisanal Vendors
True Food: A bakery that offers a range of artisanal bread, pastries, and cookies, all made with locally sourced and organic ingredients.
Something Good: A small-batch producer of jams, pickles, and other preserves, made with seasonal and local ingredients.
Hudson Valley Hand-Crafted: A vendor that offers handmade candles, soaps, and other body care products, made with natural and organic ingredients.
Community Organizations
Pound Ridge Organics: A community organization that promotes sustainable gardening and farming practices, and offers workshops and resources to help people grow their own food.
Pound Ridge Lions Club: A non-profit organization that supports various community initiatives, including local food banks and schools.
Activities and Events
In addition to shopping for fresh produce and artisanal products, the Pound Ridge Farmers Market offers a variety of activities and events for visitors of all ages. Some of the highlights include:
Cooking Demonstrations
The market often hosts cooking demonstrations by local chefs and food experts, showcasing creative ways to prepare and enjoy fresh, seasonal ingredients.
Live Music
Every week, the market features live music performances by local musicians, adding to the festive atmosphere.
Kids' Activities
The market offers various activities for kids, such as face painting, balloon art, and craft projects, to keep them entertained while you shop.
Special Events
The Pound Ridge Farmers Market also hosts special events throughout the season, such as a Strawberry Festival in June and a Harvest Festival in October, featuring even more vendors and activities.
Getting Involved
Are you a local farmer, producer, or artisan interested in selling your products at the Pound Ridge Farmers Market?
Great! The Pound Ridge Farmers Market is always looking for new vendors to join the market community. If you're interested in becoming a vendor, you can apply online through the market's website. The application process requires some information about your products, sourcing practices, and production methods, so make sure you have all of that ready before applying.
If you're not a farmer or artisan, but still want to support the market, there are many other ways to get involved. You can volunteer to help with market setup and breakdown, assist with events and activities, or even join the Pound Ridge Partnership and become a part of the organization that runs the market.
Benefits of Shopping Local
Shopping at the Pound Ridge Farmers Market is not only a great way to support local farmers and artisans, but it also has many benefits for you as a consumer. Here are just a few:
Freshness
Since all of the products at the market are locally sourced, you can be sure that they are fresh and in season. Many of the fruits and vegetables are picked just hours before the market opens, so you can enjoy produce that is at its peak flavor and nutrition.
Sustainability
By shopping at the market, you're supporting sustainable agriculture practices that prioritize the health of the environment, animals, and local communities. You can feel good knowing that your purchases are helping to promote a more sustainable food system.
Community
The Pound Ridge Farmers Market is more than just a place to buy food and crafts. It's a gathering place for the community, where neighbors can come together to socialize, learn, and support each other. By shopping at the market, you're contributing to the sense of community and belonging that makes Pound Ridge a special place.
Conclusion
The Pound Ridge Farmers Market is a wonderful destination for anyone interested in fresh, local produce, artisanal products, and community building. With a diverse range of vendors, activities, and events, there's something for everyone to enjoy. Whether you're a regular visitor or a first-time shopper, the market is sure to leave you feeling inspired and connected to your local food system.